I think we can all agree that first impressions are everything. With 95% of all buyers starting their home search online, the way your home is displayed to the public plays a huge factor in how many showings and offers you receive. As we enter into the fall and winter seasons, the outside scenery begins to diminish, and the aesthetic of your home declines. When looking at the images below, I'm sure you can agree on what seasons are best to capture the true essence of your home.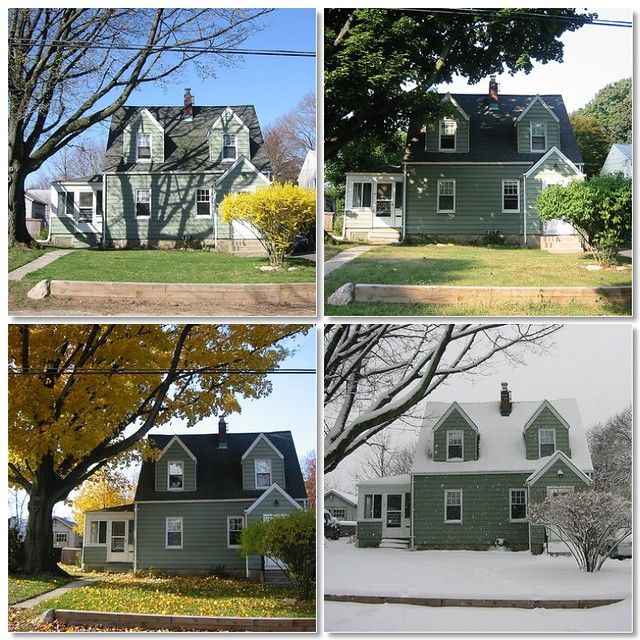 If you are thinking about listing your home within the next 6 months, it's important that you capture the true essence of your home now while the trees and shrubbery are still in full bloom. Read below to learn more about how professional photography and video greatly increases the likeliness of you maxing out on your home sale while protecting as much of your equity as possible...


1. Where Buyers Are Looking
As we mentioned above, around 95% of all home buyers begin their search online. So if you are not presenting your home in a professional, enticing way that will attract buyers to look further into your home, the buyers will simply scroll onto the next listing.
2. Stats on Professional Photography
Here are important statistics going over the effectiveness of professional photography:
Only 15% of listings have high-quality photography.

98% of homebuyers said photos were the most useful tool for investigating properties.

Homes with professional photos get 61% more views.

Homes with high-quality photography sell 30% faster. A home with one photo spends an average of 70 days on the market, but a home with 20 photos spends 32 days on the market.

For homes in the $200,000 - $1,000,000 range, those that include high-quality photography in their listings sell for $3,000 - $11,000 more.
3. Stats on Professional Video
Here are important statistics going over the effectiveness of professional video:
Only 9% of agents use video for their listings.

Mobile video consumption rises by 100% every year.

Listings that include video receive over 400% more inquiries than those without.

Viewers retain 95% of a message when they watch it in video form. This is compared to only 10% retention for text.
4. How We Can Help
We are offering to schedule a professional photo and video shoot of your home to capture its full essence while the weather is still nice and your surrounding shrubbery is still in full bloom. This service is 100% complimentary. Even if you don't plan on listing your home until the wintertime, completing the photos and video now will greatly pay off come listing time. In addition, we can perform a full assessment of your home and recommend tweaks that you can make ahead of time in order to max out your value. With your home being one of your most valuable assets, it's important that we put our best foot forward and prepare for success. You can visit our property page HERE to look at the photo and video shoots from our previous listings and to get an idea of how your home can look. You can also visit our marketing page HERE to learn more about the additional tactics that we use to effectively market your home.
If you are interested in getting the ball rolling, please scroll down to either schedule a call with us or to get an estimate of your current home's value!
Selling Your Home?
Get your home's value - our custom reports include accurate and up to date information.
Get Home Value